Parents, school staff form bullying task force – The …
Parents, school staff form bullying task force – The …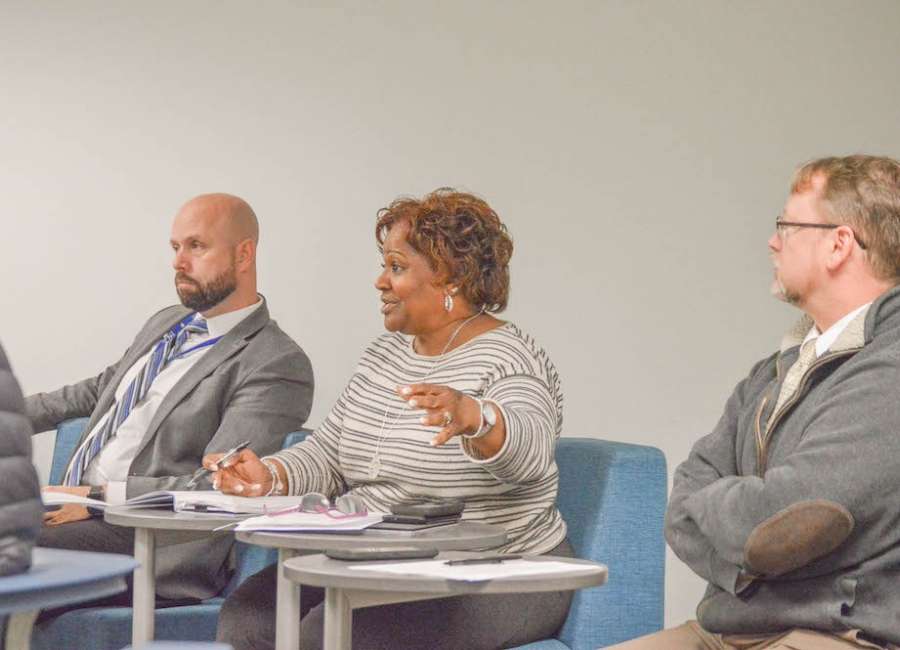 The Coweta County School System has formed a bullying task force to bring together parents, principals and school counselors, and district officials to find out what can be done about bullying in schools and to create a consistent program across the entire system.
The task force recently held its first meeting and plans to meet again in May – when it's hoped there will be recommendations to share.
With the closure of schools because of the COVID-19 pandemic, things are currently in a holding pattern, Coweta Assistant Superintendent Evan Horton said Friday.
The task force got its start from the request of a parent, Desiree LaRussa.
On Jan. 14, she spoke to the Coweta County Board of Education as the parent of a child who had been physically assaulted at school. It was the second physical assault in three years.
"After these two instances and others through the years that were not physical, plus hearing similar stories from so many other parents, I'd had enough and decided it was time to advocate for change, starting with the school board," LaRussa said.
At that meeting, she read an impassioned plea citing statistics and her son's story and pleading with the district to take action.
"After the meeting I was promised that I was heard and the district would take immediate action," she said.
A week later, she met with Horton, Superintendent Steve Barker, and Ruth Scott, the school system's coordinator of mental health support, and they discussed various facets of the bullying issue, including the things the school system was already doing.
"Out of that meeting, the task force idea was born," LaRussa said. She said she's been pleased with other action that has taken place, including the Social and Emotional Learning curriculum that had already been put in place in Coweta schools.
The task force includes parents, principals, administrators and central office staff.
"I understand that it takes a village to raise children and we must change the culture in the schools," LaRussa said.
She said that a lot of the bullying she hears about is "relational bullying."
"It's students bullying and demeaning other students for popularity points," she said. "That requires a culture change because it's the worst king of bullying that can take over a school."
It usually takes place with groups of students, she said. "One popular student does it and many others join in because they want to be accepted."
Goal is a cohesive response, district wide
At the task force meeting, Horton said it's his hope that the group can help bring some cohesiveness to bullying prevention efforts across the district.
"We have a lot of good things going on. Some of them are universal but not all of them," Horton said. "What I would like to see is if we can replicate those pretty good things district wide. I think it's pretty doable."
In the second half of the meting, attendees broke into groups for elementary school, middle school and high schools. Those groups are working on identifying what schools are doing at grade level and to look at district-wide actions that would be appropriate for each level.
Horton said he hopes that, by the time school starts in the fall, there will be district-wide implementation of anti-bullying interventions.
"So it's not one school doing something great and other schools really not knowing," he said.
Horton said he'd like to see the task force report to the Board of Education at least quarterly on their efforts.
The goal is to have a "very solid, comprehensive approach to bullying in the district — prevention, education," he said.
Under state law, there is a rigid definition of bullying, which doesn't encompass taunting, putdowns or general meanness unless it "is so severe, persistent or pervasive that it creates an intimidating or threatening education environment" or "has the effect of substantially disrupting the orderly operation of the school."
For the most part, under state law, bullying has to be physical violence or threats of violence.
Horton said he wants to track how many reported cases of bullying are substantiated as bullying under the definition.
He said he's asked some schools to track that already.
"Do we have a definition problem?" he asked. "I want to know where is my definition problem? Is it on the parent side? The administration side? The student side? Or a combination of all three."
When bullying is reported, with reliable information, schools must begin an immediate investigation, which must start no later than the following school day, according to existing school system policy. After the investigation, the parents of both the alleged bully and victim will be notified of the findings of the investigation. If there is an injury, the parents should be notified immediately. School administrators are also required to follow up with the victims of bullying.
Even if an investigation finds that conduct doesn't rise to meet the definition of bullying, it's still investigated.
"We investigate and take action anytime student misconduct occurs," Horton said. "Regardless of whether the incident is verified as bullying or not it is always still investigated."
Often, there is peer mediation with school counselors or administrators to resolve the issues between students, Horton said.
Social and Emotional learning curriculum is key
Horton said he wants the school system to be active in the are of preventing bullying the first place.
Bullying is something that is targeted in the social and emotional learning curriculum. Every school is using the curriculum, in an age-appropriate way, though schools are implementing it differently.
"I think all of our other efforts are going to be rooted in what we are doing socially and emotionally in that curriculum," Horton said.
"We've seen a difference in some of our schools already, related to climate and culture as a result of social and emotional learning," Horton said. "It takes al little bit of the air out and people treat each other a little differently.
"Is it perfect? No. Is it a step in the right direction? Yes."
Scott said she wants to get an accurate picture of what every school is doing to prevent and deal with bullying, and narrow that down to a few things that are working the best.
East Coweta High School Principal Steve Allen said that there are signs all over his school that say "if you see something, say something."
"And every day I saw it on the intercom," he said. "The more we put it in the face of our kids, the more they see it, the more they hear it," the more students know they have a way they can speak out and report things.
"It's been a huge success for high school," he said.
What's the best way for students to confidentially report bullying?
The group discussed the best way for students to make confidential reports of bullying. Should that be an app? Through email? Some schools have a box where written reports and tips can be dropped — but that's not anonymous if others see students putting items in the box or going to the principal's office to drop them off.
Mary Cousins, court liaison for the school system, said that there are a lot of great things being done in the system. "I think it's a great idea that we're all able to come together as one to come up with some workable interventions that will benefit everyone as a whole," she said.
Horan said when he reached out to people to talk about joining the task force, no one said "no."
"Not a parent, not a student," he said. "I think everybody realizes the importance of this work."
Published at Mon, 23 Mar 2020 06:02:00 +0000